Regular dental visits are essential to make sure oral health problems — from tooth decay to oral cancer — are detected and treated in a timely manner. At our office, your oral health is our paramount concern. We want to make sure your teeth stay healthy, function well and look great! From regular cleanings and exams to advanced restorative treatments, all of your routine dental needs can be met right here.
Services we offer include:
Bonding, to repair small chips or cracks
Removable Dentures, to help you smile again
Extractions, when a tooth is hopelessly damaged or decayed
Corrective Jaw (Orthognathic) Surgery, for chronic jaw pain
Root Canal Therapy, to save an infected tooth
Sealants, to protect children's teeth from decay
Porcelain Veneers, for repairing larger chips and cracks, and reshaping teeth
Types of Braces, to move teeth into the right position
General Dentistry, to restore a beautiful smile
Cosmetic Dentistry, to restore a beautiful smile
Crowns & Bridgework, to replace large amounts of lost tooth structure and/or missing teeth
Dental Implants, for the longest-lasting tooth replacement available today
Scaling and Root Planing, to treat acute gum disease
Teeth Whitening, to brighten a faded or discolored smile
Oral Cons Sedation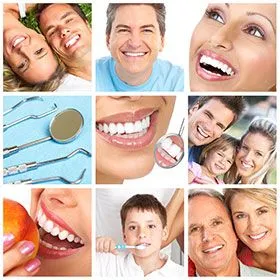 At Millennium Dental, Dr. Lita Rodriguez, Dr. Ramon Chicchon and our entire Tracy and Stockton dentistry team are dedicated to providing the most thorough and advanced dentistry care available in the most relaxing environment possible.
In addition to preventative dentistry examinations and cleanings, the dentists and the team at Millennium Dental offer a wide array of cosmetic and restorative dentistry solutions. From smile makeover treatments such as porcelain veneers, teeth whitening, and cosmetic bonding, to smile restoration treatments such as root canals, dental crowns, and even dentures, our patients have the full range of dentistry treatments at their disposal.
Dental Examinations
Great oral health begins with regular dental examinations and cleanings. Our dentists and the Millennium Dental team of dental assistants and hygienists provided personalized routine dental examinations. During their twice-yearly check-up, patients in our Tracy and Stockton-area practices receive a thorough examination of their teeth, gums, tongue, jaw, and neck. If necessary, your dentist may recommend X-rays, an oral cancer screening, or a periodontal (gum) inspection. After the comprehensive examination, one of our professional and knowledgeable dental hygienists will perform a thorough cleaning and polishing. Call us today to schedule your appointment.
Preventing cavities and promoting good oral hygiene should start early on in life. Taking great care of your child's teeth now sets them up for great oral health in the future. The dentists and the staff at Millennium Dental are experienced in pediatric dentistry. Babies and children have specific dental needs and our professional staff is trained to provide the care they need. Contact us to make an appointment for your child today. It's never too early to have great oral health.
Cosmetic Dentistry
Smile, it's a great thing to do! With the advanced techniques in cosmetic dentistry that are offered at Millennium Dental, we are sure to give you something to smile about. Our Tracy and Stockton teams have helped many of our patients correct gaps, chips, stains and missing teeth with cosmetic procedures and treatments. Your dentist will be happy to outline your personalized cosmetic dentistry treatment plan and explain all your options. Take the first step towards enhancing your smile and schedule your cosmetic dentistry exam today.
Available Cosmetic Procedures:
Porcelain Veneers
Tooth Whitening
Dental Crowns
Dental Bridges
Dental Implants
Cosmetic Dental Bonding
Full Smile Makeover
Sedation / Nitrous Dentistry
Sedation and nitrous dentistry allow the dentist to dramatically reduce your dental anxiety and even perform multiple procedures in one visit. Sedation and nitrous dentistry allows you to feel relaxed and comfortable and helps to eliminate any unpleasant feelings. For example, many of our Tracy and Stockton sedation dentistry patients report that they have no memory of the sounds and smells of the dental procedures performed during their appointment. With sedation and nitrous dentistry there really is no need to be scared of going to the dentist. Contact us today to explore the benefits of how sedation and nitrous dentistry can easily help you achieve your dental health objectives.
Invisalign
Invisalign is a great option for patients looking to straighten their teeth without visible metal braces. Invisalign is a gradual method of straightening the teeth using a series of custom-made aligners provided by the dentist. Your dentist is experienced in Invisalign and will determine what is the best method to straighten your teeth. Contact us to make an appointment and we'll be happy to explain the benefits of Invisalign and to determine whether Invisalign is the best form of straightening teeth for you.
Orthodontics
If your teeth or jaw structure do not properly fit together, orthodontic treatments, including braces, are an effective way to correct this misalignment. While orthodontics care can help straighten your teeth, our treatments go beyond basic smile correction. Orthodontics care can also help a number of more complex jaw alignment and bite problems including underbites, overcrowding, crossbites, overbites, open bites and midlines. Millions of Americans suffer from bite alignment problems and seek treatment each year to correct these concerns through orthodontics.
Emergency Dental Treatment
If you have a life-threatening or severe injury, call 911 or go directly to the nearest hospital emergency room. We can treat a variety of traumatic dental injuries, including teeth that have been chipped, moved, or knocked out entirely. Please call our office for assistance.